מחשב נייד Samsung Galaxy Book Flex a 13.3 NP730QCJ-K01US
כן ! לנו באמת יש במלאי !
(כאשר המוצר פתוח למכירה )
אצלנו תקבלו רק אריזה מקורית סגורה על כל חלקיה כפי שמגיע מהיצרן !
ועד 12 תשלומים ללא ריבית.
ובמחיר מיוחד לימים הקרובים !...
מוצר זה הינו בהזמנה אישית - זמן אספקה לפעמים עלול להיות סביב 14 ימים ! שאל את הנציג בטלפון..
אחריות: שנה ע"י סטורמובייל - יבואן מחשבים וגאדג'טים סמסונג בישראל
זמן אספקה: 3 ימים
מחיר משלוח: חינם!
מחשב נייד Samsung Galaxy Book Flex a 13.3" NP730QCJ-K01US
המהדורה 2020 החדשה של סמסונג !
מסך QLED מסתובב טאצ', 8GB(RAM) + 256GB(SSD) ,

Windows 10 Home,
i5
10th generation
המקלדת ומערכת הפעלה בעברית ואנגלית.
דק במיוחד ושוקל רק 1.2 ק"ג !
Step into QLED brilliance in a flexible 2-in-1 PC.
The versatile Samsung Galaxy Book Flex α has an ultra slim 2-in-1 design that smoothly transforms from laptop to tablet. The QLED touchscreen display puts a world of captivating detail right at your fingertips, all powered by the astounding speed of a 10th gen Intel® Core™ processor, 512GB of storage, and up to 12GB of RAM. Hop from task to task with ease, whether you're knocking out projects or unwinding with a favorite show. Plus, its battery lasts up to 18.5 hours to give you peace of mind throughout the day.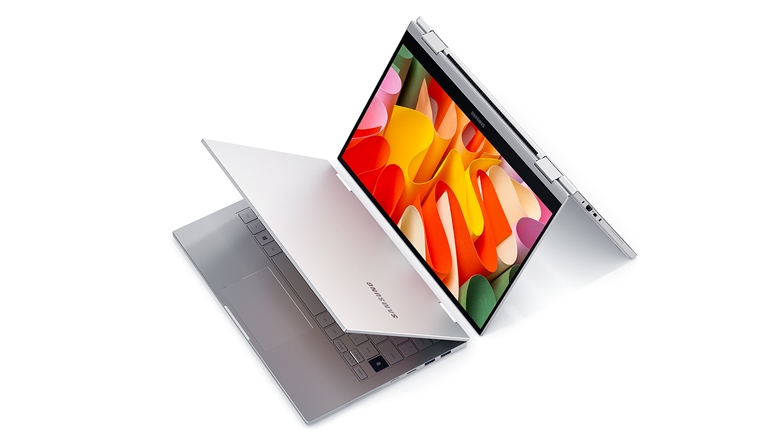 The quality of QLED on your laptop
First, we brought the magic of QLED to TV. And now, we're bringing it to laptops. The Samsung Galaxy Book Flex α features a gorgeous touchscreen that allows you to stream and browse with the vibrancy of up to 100% Color Volume¹. Watch and create anywhere with Quantum Dot technology that keeps your display brilliant even in direct sunlight.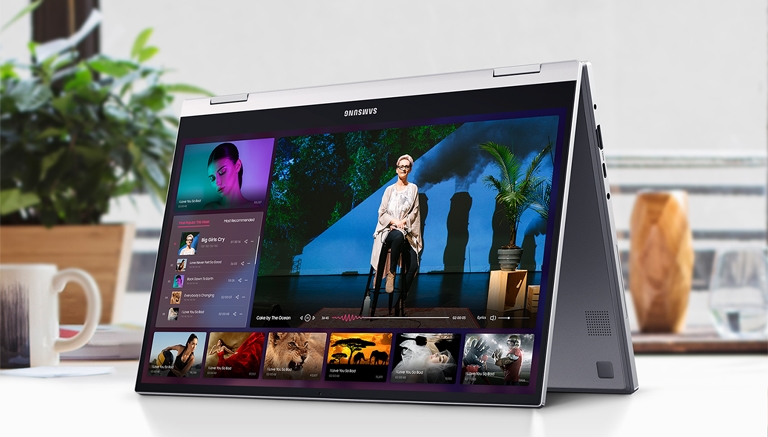 Flip it to switch.
The Galaxy Book Flex α's ultra-slim design in an eye-catching Royal Silver aluminum finish seamlessly converts from laptop to tablet with just a turn. You'll be ready to take notes, present or watch content on the 13.3"/15.6" display within seconds. Plus, the backlit keyboard makes it easy to knock out late-night projects.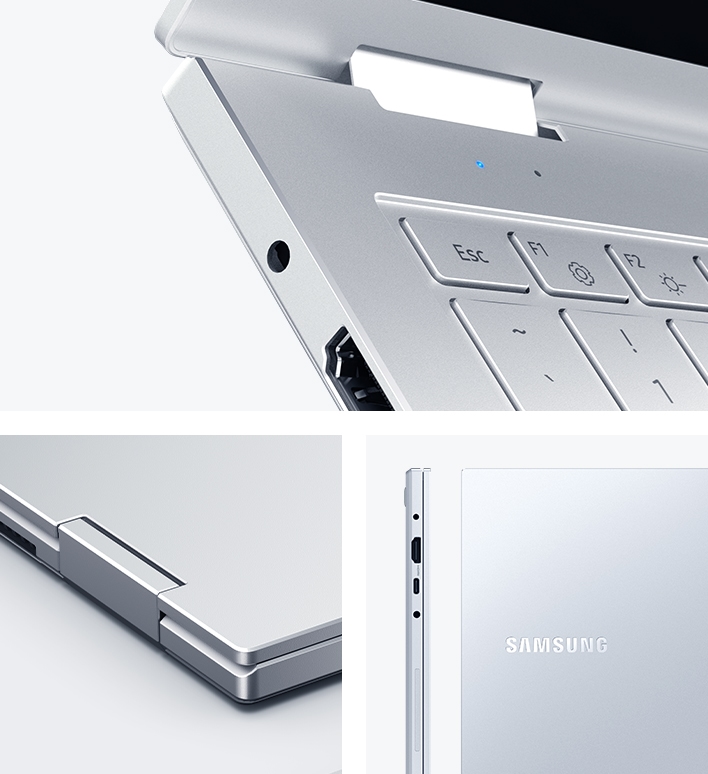 Productivity powerhouse
Enjoy split-second responsiveness and fluid multitasking with a formidable 10th generation Intel® Core™ processor. Stream content with minimal lag and enjoy an SSD that allows near-instantaneous startup and houses 256GB of storage.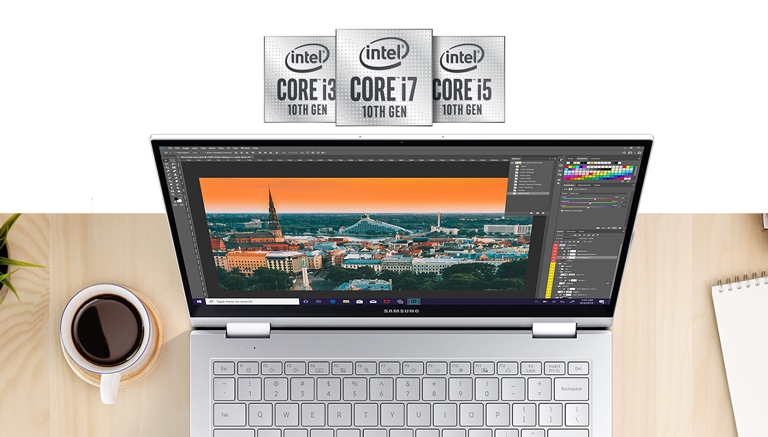 Fast-charging. Long-lasting.
Work throughout the day and stream into the night thanks to a fast-charging battery that lasts up to 18.5 hours.²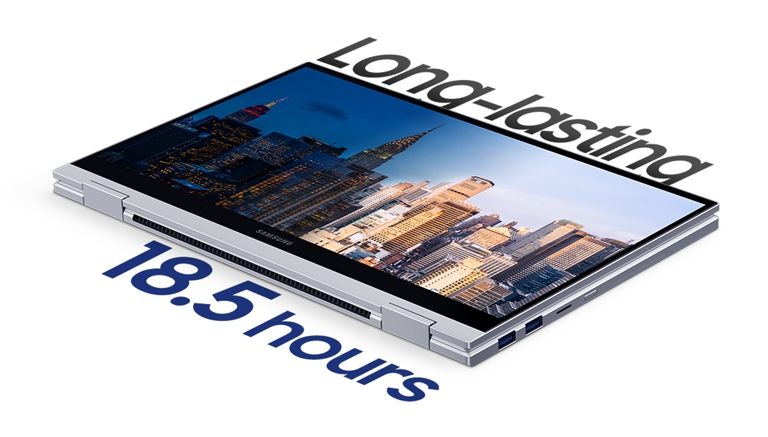 A better way to Wi-Fi
Unlock network speeds up to 3x³ faster than previous generation Wi-Fi routers. Download music, movies and more in seconds with up to 2.4 Gbps speeds, backed by Intel's high-performance wireless hardware.


The best Windows ever keeps getting better
Windows' most powerful operating system is built-in and ready to go. Featuring all the familiar programs you know and love, Windows 10 Home OS provides just what you need to edit, sketch, write and present.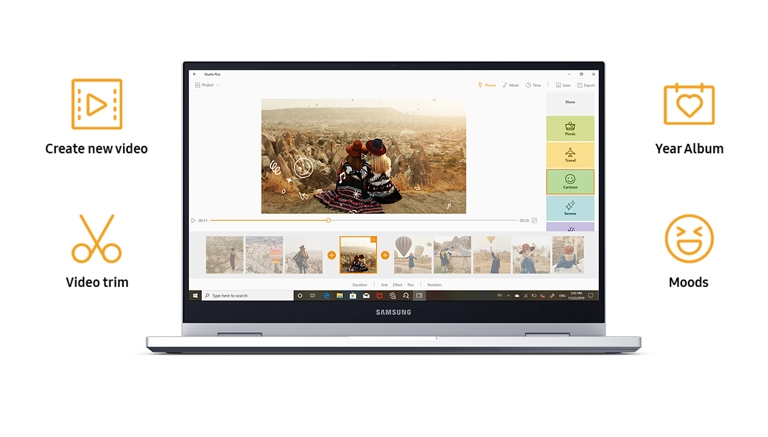 Store more when you need it
Galaxy Book Flex α's quick amd secure fingerprint log-on. Lattice backlit keyboard of bigger keycap and bigger touchpad. Port connectivity: Thunderbolt & UFS combo slot.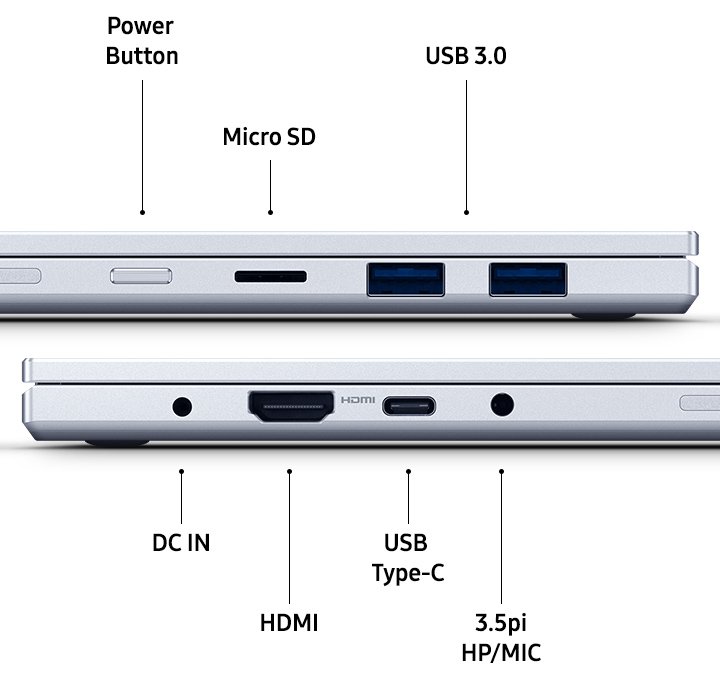 Windows 10 Home
13.3" FHD QLED Display
Intel® Core™ i5
8GB RAM
Gigabit Wi-Fi
ENERGY STAR® Certified
נתונים טכניים :
OS
Operating System
Windows 10 Home
Processor
Processor / Chipset
Intel® Core™ i5-10210U Processor
Model
Series Name
Galaxy Book Flex α
Design
Color
Royal Silver
Display
Touchscreen
Yes
Size
13.3"
Type
FHD QLED
Resolution
1920 x 1080
Memory
Memory
8GB
Storage
Hard Drive
256GB SSD
Graphics
Graphic
Intel® UHD Graphics
Sound & Camera
Camera
720p HD
Microphone
Yes
Speakers
Stereo Speakers ( 1.5 W x 2 )
Wireless
Network
Wi-Fi 6 (Gig+), 802.11 ax
Bluetooth
Bluetooth v5.0
I/O Ports
Ports
1 HDMI
2 USB3.0
MicroSD
MicroSD Multi-media Card Reader
Audio
1 Headphone out/Mic-in Combo
Input/Output
Touch Pad / Track Point
Clickpad
Spill Resistant
50cc
Number of Keys
80
Power
Number of Cells/Cell Type
4Cell/Li-ion
mAh
3530mAh
Battery Life*
18.5 hrs
Test
MM14
Power
40W
Security & Safety
TPM
Yes
Certification
ENERGY STAR® Certified
Yes
Included in Box
Accessories
Adapter, Power Cable, Installation Guide
Software
Link Sharing
Live Message
Live Wallpaper
McAfee Live Safe (60 days trial)
Samsung Gallery
Quick Search
Samsung DeX
Samsung Flow
Samsung Notes
Samsung Recovery
Samsung Settings
Studio Plus
Samsung Update
teamPL
*Software can be changed without notice.
Dimensions & Weight
Product Dimensions (L x W x H)
12.00" x 7.95" x 0.55"
Weight
Weight
2.62 lbs
Warranty
Warranty
1 Year