מחשב נייד Samsung Galaxy Book2 Pro 15.6" i5 8GB 512GB NP950XED-KA2US​
עד 24 תשלומים
בכרטיס אשראי
(עד 5 ללא ריבית)
התשלום מאובטח ישירות באתר
ניתן באתר גם לשלם בפיי פאל. - תשלום במזומן, העברה בנקאית, ביט, פיי בוקס - בתיאום טלפוני.
אחריות: שנה ע"י סטורמובייל - יבואן רשמי למחשבים סמסונג בישראל
זמן אספקה: 7 ימים
מחיר משלוח: חינם!
מחשב נייד Samsung Galaxy Book2 Pro 15.6" i5 8GB 512GB NP950XED-KA2US​​
דגמי 2022 החדשים של סמסונג !
מסך AMOLED, מעבד 8GB(RAM) + 512GB(SSD) ,Windows 11 Home, i5 12th generation
תוספות: המקלדת ומערכת הפעלה בעברית ואנגלית.
שנת אחריות כולל איסוף והחזרה מהלקוח !
דק וקל במיוחד, רק 1.1 ק"ג !
Thin. Light. Powerful.
With a PC this powerful, you'll want to take it with you wherever you go. And you can! At less than 2 pounds*, Galaxy Book2 Pro is our thinnest and lightest laptop yet. Whether you use it for work or play, it's easy to bring along in a tote, backpack or purse. Plus, the sleek, stunning design shows off your stylishly good taste.
*13.3" display model is 11.98" x 7.87" x 0.44", 1.92lbs. 15.6" display model is 13.99" x 8.89" x 0.46", 2.45 pounds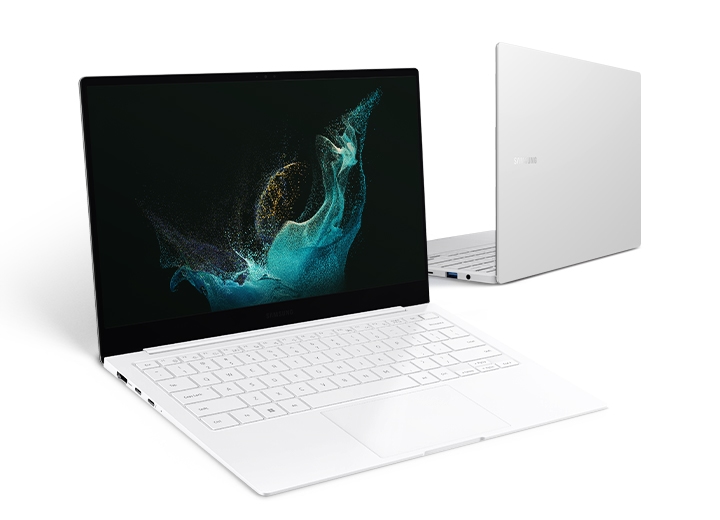 Powerful. Fast. Amazing.
Blaze through your day like never before with Galaxy Book2 Pro. Our new laptop is packed with the premium performance you've come to expect from Samsung — plus some. Don't let its lightweight design fool you. This brawny PC is powered by the 12th Gen Evo-certified Intel processor, our most powerful available CPU yet. Go ahead, juggle those projects. Stream your favorite movie, or video chat with a friend. Whatever you're doing will be an effortless, supersmooth experience.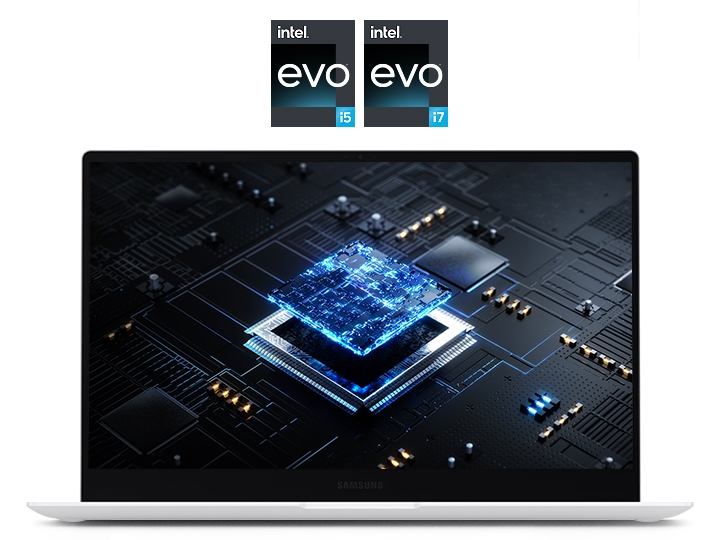 Brilliant. Bright. Beautiful.
Colors that pop. Gape-worthy graphics. Action that leaps off the screen. Whether you're scrolling through your social feed or video chatting with your bestie, everything looks amazing on a stunning AMOLED screen that's up to 33% brighter.* Available in two sizes (13.3" and 15.6"), Galaxy Book2 Pro offers plenty of room to get all your favorite things done. Plus, your screen is easy on the eyes with a 1MM:1 contrast ratio that automatically adapts to any lighting environment.
*Compared to 2021 Galaxy Book Pro model.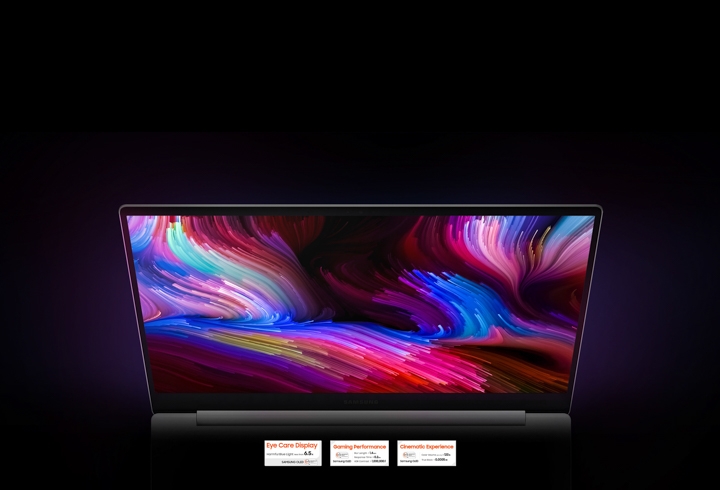 Video chat in high definition
Connect with others like never before with a video-call experience that's been optimized to help you look your best every time. Galaxy Book2 Pro features an upgraded full-HD camera with a 1080-pixel wide-angle view that's 2x clearer* than before to help your personality shine through on every call, from videoconferences to late-night chats with your fam. Keep the spotlight where you want it — namely, on you — with auto framing that automatically keeps you in focus and background effects that remove visual distractions in your background. You'll sound amazing too with Dolby Atmos sound and intelligent noise canceling that helps minimize
unwanted sounds.
*Compared to 2021 Galaxy Book Pro model.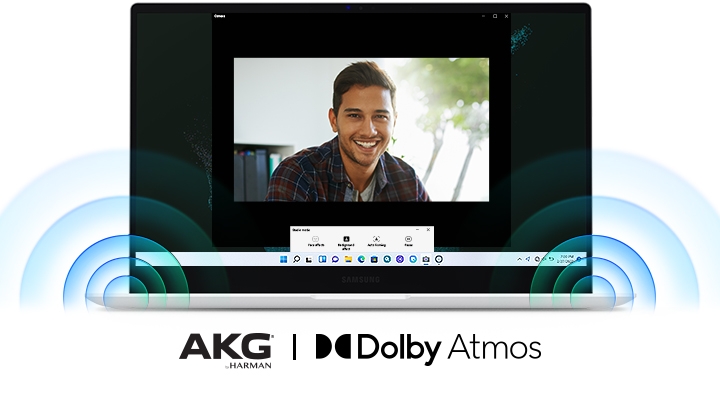 Long-lasting charge. Powers up fast.
Who's got time to wait around while your laptop powers back up? Not you, that's who. Galaxy Book2 Pro features our longest-lasting battery to keep you going for hours and hours on a single charge. When you finally do need a jolt of power, get energized faster with a universal fast charger that gets you 40% of battery power back in just 30 minutes. And your charger works across your entire Galaxy of devices —
one is all you need.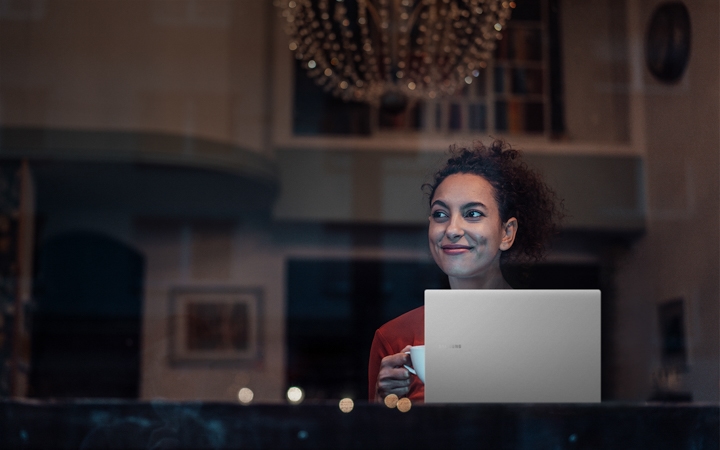 Helps keep your data safe
Feel better knowing Knox security helps to protect your PC. Help keep your files under your control with a fingertip scanner that lets you unlock your laptop with the tap of a finger. Enjoy even more control over your files with Private Share,* a security feature that lets you set time limits on your shared files — the recipient can't capture or share your file, and you remain in control with the ability to revoke file access at any time. File security has never been so simple.
*Private Share features for both the sender and receiver require Galaxy devices with Windows 10, Android OS 10.0 (Q), and One UI 2.1 or above and the Quick Share app. Requires Wi-Fi and Bluetooth connection.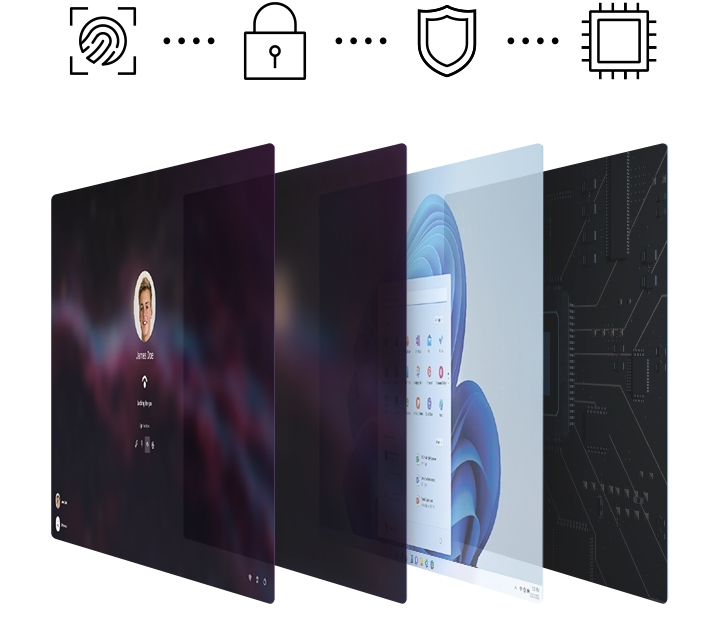 Seamless second screen
Connect your Galaxy Book2 Pro and Galaxy Tab S8 to wirelessly add a second screen. Simply slide the cursor from screen to screen to expand your workspace from anywhere.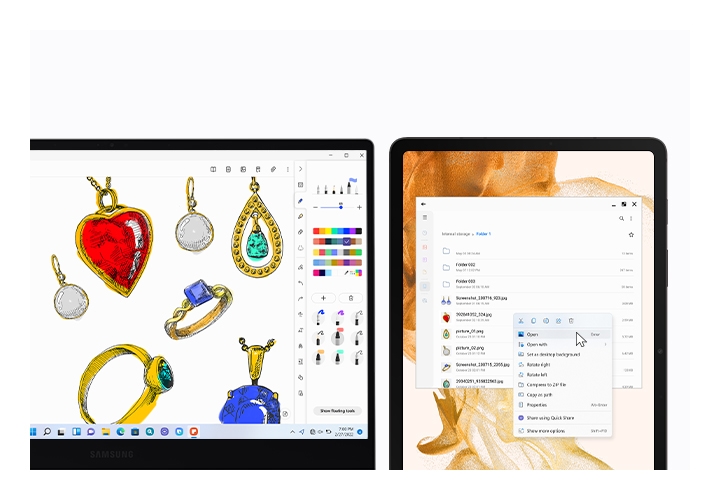 From your phone to your PC
Everything on your Galaxy Phone, now on your Galaxy Book. Link to Windows* unites your apps, calls, texts, and files so you can switch from your phone to laptop without missing a beat.
*Link to Windows requires the Your Phone app (free download), a Microsoft account and Windows 10 or Windows 11. Some mobile apps may have security features that prevent the mobile app from being viewed on PC.


Simple, secure file sharing
Directly share files between nearby devices with Quick Share. For more control, Private Share* lets you set time limits, prevent capturing and revoke access to files at any time.
*Private Share features for both the sender and receiver require Galaxy devices with Windows 10, Android OS 10.0 (Q), and One UI 2.1 or above and the Quick Share app. Requires Wi-Fi and Bluetooth connection.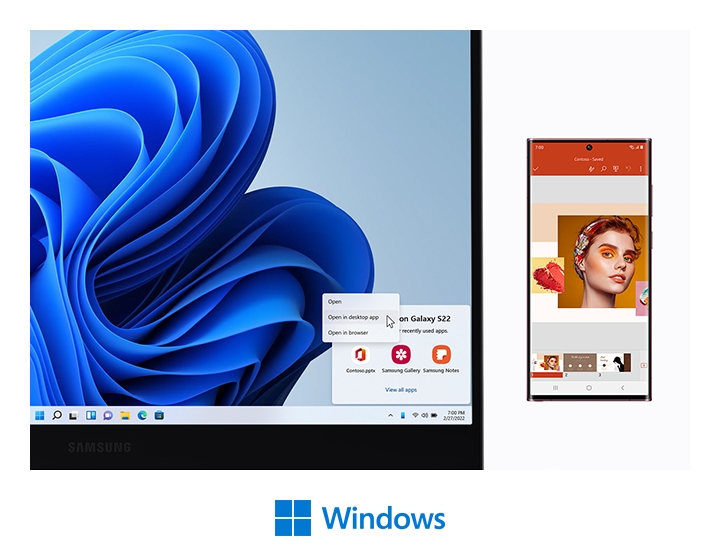 Control your world
Bixby's intelligent voice interface does almost anything, from giving weather reports to controlling SmartThings-compatible devices like light switches and dishwashers.*
*All devices must be registered with SmartThings to receive smart notifications.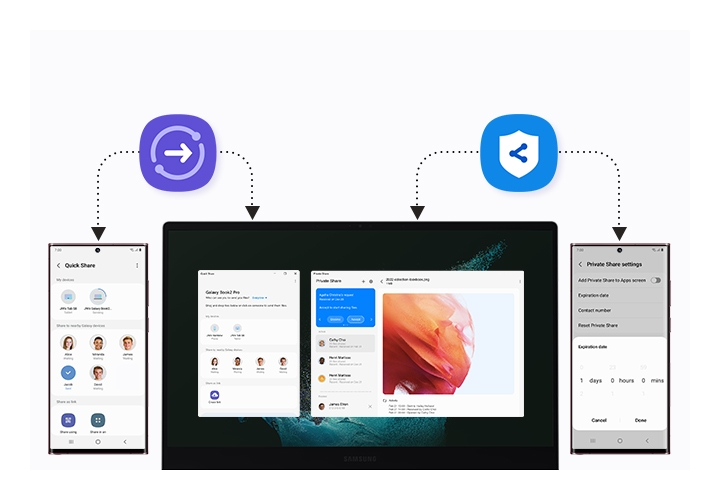 Make the switch, seamlessly
Upgrade without saying goodbye to your old stuff. Smart Switch* seamlessly transfers contacts, photos, and more to your new laptop. Then, Single Sign-On** makes it easy to access everything Galaxy with just one log-in.
*Availability of Galaxy Book Smart Switch may vary depending on OS and the transferable files are informed during program execution.
**Single Sign-On works on apps including Quick Share, SmartThings, Bixby, Samsung Bluetooth Sync, Samsung Multi Control, Samsung Notes and Samsung Gallery.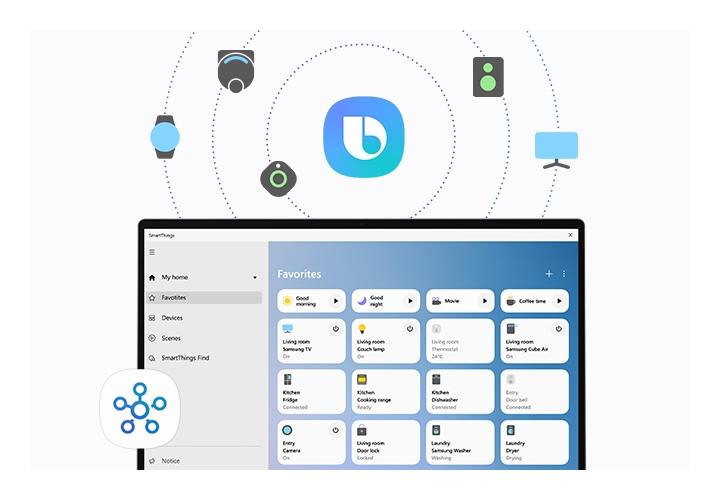 Windows 11 Home
Powerful Performance
Ultralight Design
AMOLED Screen
מפרט טכני:


· OS
Operating System
Windows 11 Home
· Processor
Processor / Chipset
Intel® Core™ i5-1240P Processor(1.7 GHz up to 4.4 GHz 12 MB L3 Cache)
Speed (GHz)
1.70
Turbo Boost (GHz)
4.40
· Design
Color
Graphite
· Display
Display
15.6" FHD AMOLED Display (1920 x 1080)
· Memory
Memory
8 GB LPDDR5 Memory (On BD 8 GB)
· Storage
Storage Capacity
512 GB NVMe SSD
Number of SSD Slots
2
· Graphics
Graphic
Intel® Iris® Xe Graphics
· Sound & Camera
Multimedia
AKG Stereo Speakers ( Max 5 W x 2 )
Smart Amp
Dolby Atmos®
Internal Dual Array Digital Mic
1080p FHD Camera
· I/O Ports
Ports
1 HDMI
1 Thunderbolt™ 4
1 USB Type-C
1 USB3.2
MicroSD Multi-media Card Reader
1 Headphone out/Mic-in Combo
· Input/Output
Inputs
Pro keyboard
(Backlit keyboard)
Clickpad
· Power
Power
63 Wh (Typical)
65 W USB Type-C Adapter
· Security & Safety
Security
TPM, FingerPrint Reader
· Included in Box
Software
Live Message
Live Wallpaper
McAfee Live Safe (Trial)
Screen Recorder
Samsung Gallery
Quick Search
Samsung Flow
Samsung Notes
Samsung Recovery
Samsung Settings
Studio Plus
Samsung Update
Galaxy Book
Smart Switch
Samsung Security
Quick Share
※ Software can be changed without notice.
· Dimensions & Weight
Product Dimensions (L x W x H)
355.4 x 225.8 x 11.7 mm (13.99" x 8.89" x 0.46")
Product Weight
1.11 kg (2.45 lbs)
· Others
ETC
Ambient Light Sensor
Accelerometer Sensor